I recently read an article in the Carnival of Homeschooling about making and using a summer bucket list to keep track of all the super fun amazing things that you want to do with your kids this summer! I love that idea and am so inspired to try it…I hope to pass a little inspiration on to you!
For those of you who love visual reminders, check out this printable summer bucket list. I know summertime isn't all about having fun, we will definitely be including some online summer skill building. Yet, the bucket list will be handy to  keep us thinking of great things to do. I also love how Little Wonders' Day made her bucket list come to life with a real bucket! (see picture below) For those of you who love graphic organizers check out this printable bucket list! This is even better – let the kid's color their own bucket list with this printable color page!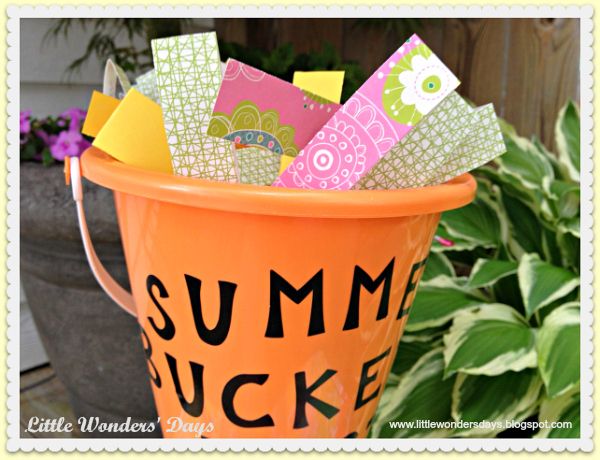 I love this idea from a blogger doing a fall bucket list. She makes a great mantel piece decoration with small buckets for her bucket list! This blogger gives several great ideas for bucket lists from old lunch pails to recycled plastic containers… how fun!
Wondering what exactly should go in your bucket list? Have no fear, these bloggers think of it all. This one asks questions to help you think of your own bucket list ideas while this blogger gives you 107 great ideas for your summer bucket list. Ok, ok, this is the last one I promise… but this printable is adorable for a fridge worthy bucket list! Ok… if that isn't enough inspiration here's the beginning (rough draft) of our bucket list.
Trips
Visit grandparents in Texas
Go to Camp with kids
Go to the beach
Go to a Major League Baseball Game
Go on a long nature hike
Go snorkeling
Fun day events
Build a blanket fort outside
Watch the stars on a beautiful evening
Catch fireflies
Have a water balloon fight
Go on a family bike ride
Watch a movie outside
Make sno-cones
Homemade ice cream
Arts/Crafts
Do bubble painting
Sidewalk chalk
Make beaded necklaces
Let girls pick a favorite pinterest craft and do it!